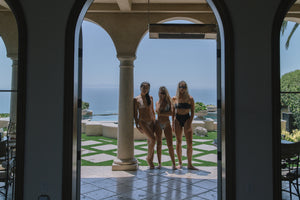 Sexy. Empowered. confident.
About the founder
The Italian raised designer, Isabella Biscarini focuses on creating pieces which allow for a flattering fit as well as provide a full body tan. I mean, who wouldn't want a bikini that gives you no tan lines?
"I came up with the tan-through fabric concept back in high school and it lingered in the back of my head for 4 years until I finally decided to give it a go. I have always been picky about my bikinis, the styles, prints and most importantly the fit. So going into this new concept of swimwear I wanted to make sure none of those elements were given up in order to achieve the tan-through element. Now I am continuing this journey and working to make the perfect tan through bikini even better."
From the style to the print, every design is created with the women who will wear it in mind, with edge, and cheek.
True Tone is all about making women feel sexy and empowered in their own skin with the advanced technology of a full tanning experience. The beauty we see in ourselves and the women around us. It's about confidence. It's focused on feeling good. It is designed to empower.
We know how hard it is to find the perfect bikini when shopping online. True Tone Swimwear is your one-stop, tanning bikini shop!