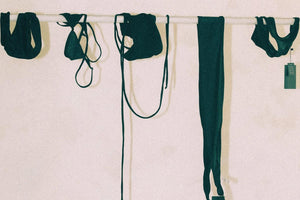 What is a Tan-Through Bikini?
True Tone Swim fabric is a high end tan-through bikini that was scientifically developed to still be soft, stretchy and flattering. It filters out the majority of UV-B rays while letting in Tanning UV-A Rays.
Straps are double lined and do not absorb as many rays as the rest of the bikini. Some lines and sheerness to be expected. We not guarantee a 100% tan-through experience as fabric is still being worn.
Wearing this unique fabric is parallel to wearing SPF 8 – 15
Dries 3× Faster
There are up to 150,000 micro-holes in our tan-through swimsuits. The swimwear retains less water than conventional swimwear which is how it drys so quickly.
Benefits of "Perineum" tanning
Increases creativity and creative output
Aids in a healthy libido & balanced sexual energy
It regulates the circadian rhythm and promotes deeper sleep
Better focus & mental stimulation
Vitamin D is a fat soluble vitamin that is necessary for healthy teeth and bones.